All of the holiday videos are shared in the Mary Kay spirit of "Go Give."
Incorporate these fabulous ideas in the way that works best for your business.
Advent and 12 Days Gift Sets
Thank You Julie Potts
How to make Mary Kay gift baskets
Thank You Jovan Tapeh

Mary Kay Christmas Open House and gift suggestions are
highlighted on this special holiday open house.
Thank You Piper Prinzi

This is a PHENOMENAL video sharing ideas on how to have
an amazing Mary Kay Open House!




Great ideas you can use at your Mary Kay Open house!
Thank You Gina


Click on any image below to view and print!
Overcoming Holiday Booking Objectives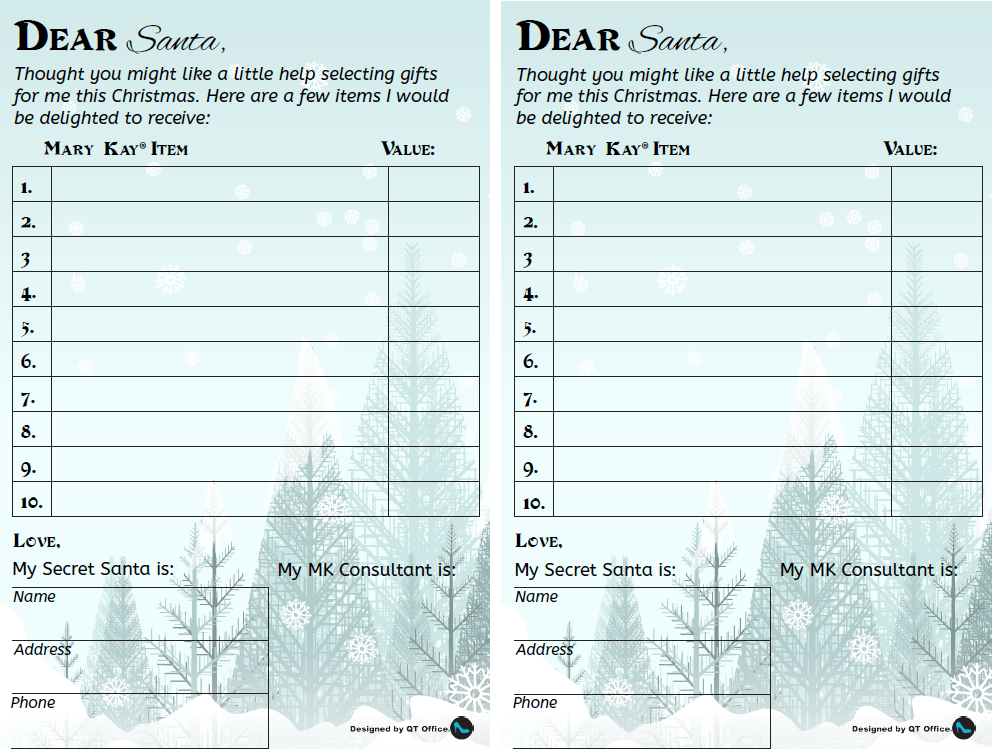 Dear Santa
| | |
| --- | --- |
| | |
| | |
| Holiday Wish List | My Mary Kay Wish List |
| | |
| | |
| | |

Pillow Gift - How To
Merry Christmas
Pillow Gift Red Gift Tag
Merry Christmas
Pillow Gift Green Gift Tag
Happy Holidays
Pillow Gift Red Gift Tag
Happy Holidays
Pillow Gift Green Gift Tag
| | |
| --- | --- |
| | |
| | |
| Christmas Gift Certificate 1 | Christmas Gift Certificate 2 |
| | |
| | |
| Christmas Gift Certificate 3 | Christmas Gift Certificate 4 |
| | |
| | |

Holiday Stop and Shop Invitation
Merry Christmas to Me! $10,000 Plan
Holiday Plan of Action

Malibu by Christmas! (Consultant Plan)

How to Host a Holiday Coffee
$12,000 Holiday Selling Blitz

What's Next After Your Open House

How to do a Holiday "Stop and Shop"

Making your Trunk Work for You!

Spice up Your Open House

Holiday Open House Invites - Editable Text Box

Tips for Holiday Open Houses

Holiday Open House Invites, With Discounts for Bringing Guest - Editable Text Box


Corporate Letter - Christmas
(with editable text boxes)
Corporate Letter - Happy Holidays
(with editable text boxes)

We "Whisk" You a Merry Christmas
Thank You Tracey Aden
Live Fearlessly Intouch flier
The Little Book of Gifts

We

Whisk

You A Merry Christmas

We Whisk You A Happy Holiday


Mary Kay 12 Days of Christmas Tutorial
Thank You Kym Phillips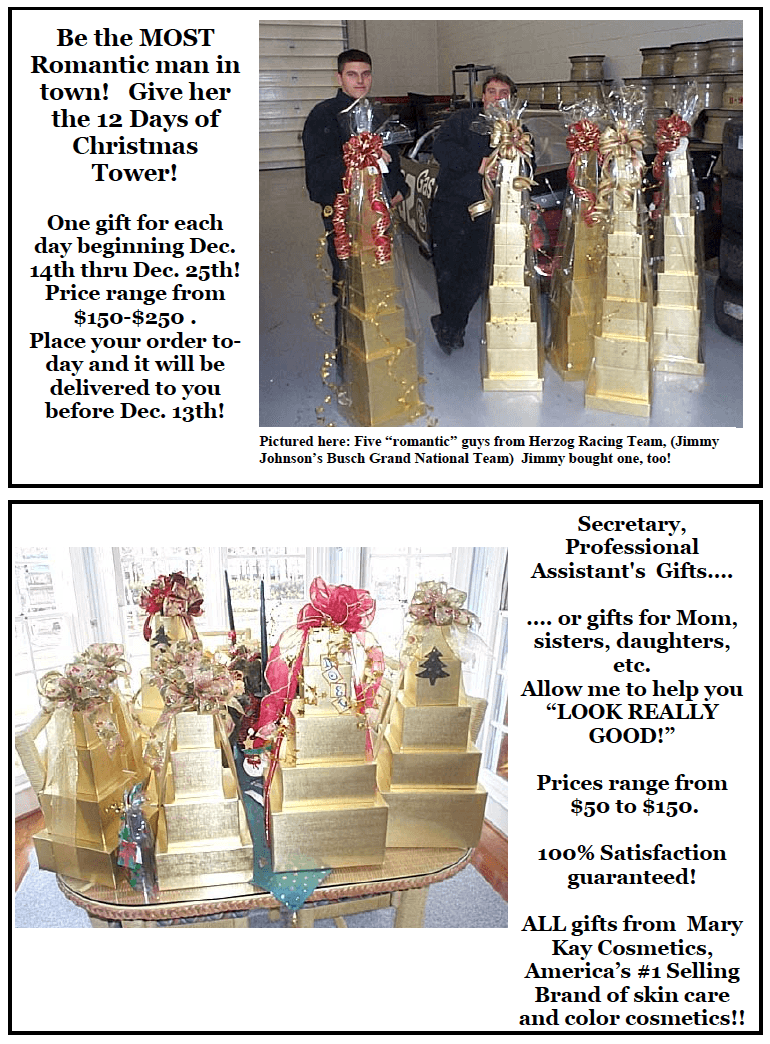 12 Days of Christmas Tower Pictures
12 Days of Christmas Thank You NSD Kristin Sharpe
| | |
| --- | --- |
| | |
| 12 Days of Christmas Price Chart | 12 Days of Christmas Script |
| | |
| | |
| | |
| | |
| $20 Gift Certificate | |


Footsie Roll Wrapper Dark -
Special Thanks to Maria Vogel

Footsie Roll Wrapper White

Cupcake Socks - How to

Snowman Soup - How to

Snowman Soup Poem Tag
(Merry Christmas)
Snowman Soup Poem Tag
(Happy Holidays)

Man Can Labels (Square)

Man Can Labels (Circle)
| | |
| --- | --- |
| | |
| Holiday Snowman Wrapper | Let It Snow - Print Out |
How to create a Mary Kay Thanks-a-Latte Gift set,
perfect for Teachers, co-workers, Dentist, Hairstylist, Doctor, etc.
Thank You Jamie
Thanks-a-Latte Gift Tags