I am so excited you have decided to become a Mary Kay Independent Beauty Consultant, just like I did 12 years ago. My goal is to be your mentor and coach as you learn the business and work to make your dreams come true. I love this business because you never stop learning and there are always opportunities to grow. As a new Consultant, I strongly urge you to start scheduling your first appointments so as soon as you receive your Starter Kit you'll be ready to go!! Don't worry about doing everything right, because what you lack in experience you can make up for in enthusiasm! Although you'll have the opportunity to take advantage of continuous education in your Mary Kay business, activity will provide your greatest sense of learning. Mary Kay herself often said, "You can do everything right with the wrong attitude and fail to succeed, but you can do everything wrong with the right attitude and succeed beyond your dreams!" The first few weeks of your Mary Kay business can really set the pace for your future.
My goal is to help you determine your plan and customize your business to fit your lifestyle! It is important that you approach your new business knowing that you are in control and that each decision that you make is important to your future success.

As an Independent Beauty Consultant, there are four areas that are important to keep in mind as you set up your business plan.

I am so excited for you! I care about your future, and I am committed to helping you succeed. You'll want to try all the products, listen to the CDs, and start working on your contact list, which is also enclosed. As always, I will match my time 100% with your effort! Be patient with yourself and just take it one step at a time. We'll move at your pace.
You are setting the pace for other's to follow!
Pamela Chubb
805-405-5353
PChubb@marykay.com
Congratulations New Business Owner!!!!
You've ordered your Starter Kit…….NOW WHAT?
1. Make a list of everyone you know! This will make up your contact list and they will more than likely be the foundation of customers for your new business!! Do not pre-judge! If they have skin, the make the list so broaden your view to include those who you would invite to your wedding or to a child's graduation!!! Highlight the ones who you believe would make an incredible business partner!!
2. Log on to your Intouch page www.marykayintouch.com and get it all set up. There you will order your business kit, set up your Mary Kay Personal Website, & complete your Color 101 survey.
3. Open up a separate personal bank account for your Mary Kay business. Make sure that it is a personal checking account that has FREE Checking and issues you a debit card. You should keep your business and personal accounts separate.
4. Contact me as soon as your Starter Kit arrives!!!! Let's celebrate together!!!!
5. Schedule your Grand Opening Debut Party!! This is a Grand Opening for your business. You will want to invite all of your family, friends, co-workers and neighbors. Schedule within the 1st two weeks to receive a special gift.
6. Contact me at 805-405-5353 with any questions you have after viewing the inventory video. Make your inventory decision and work with me to place your initial Inventory order. You do not want to miss out on all the FREE BONUS Products that is offered to all new consultants!!
7. Get set up for success and attend our weekly SUCCESS MEETINGS!! Those who show up, go up! Get ready for the time of your life!!!!!!!!!!!!!!!!!!!

You made the decision to start your business by purchasing your starter kit. Now, you will decide how you want to run your business. Please watch the video below in your first 24 hours. Please contact me when you have watched the video below so that we may discuss your options.
Use the Ready, Set, Sell brochure that is in your starter kit to follow along as you watch. If your kit has not arrived you can view it below!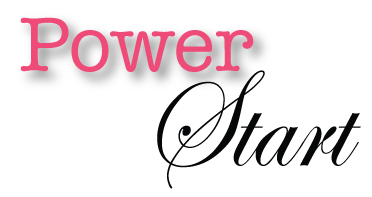 Your business will be off to a running start when you complete your Power Start, sharing the products with 30 women in your first 30 days – earning your Perfect & Power Start Charms for your charm bracelet!
Perfect & Power Start Tracking Sheet